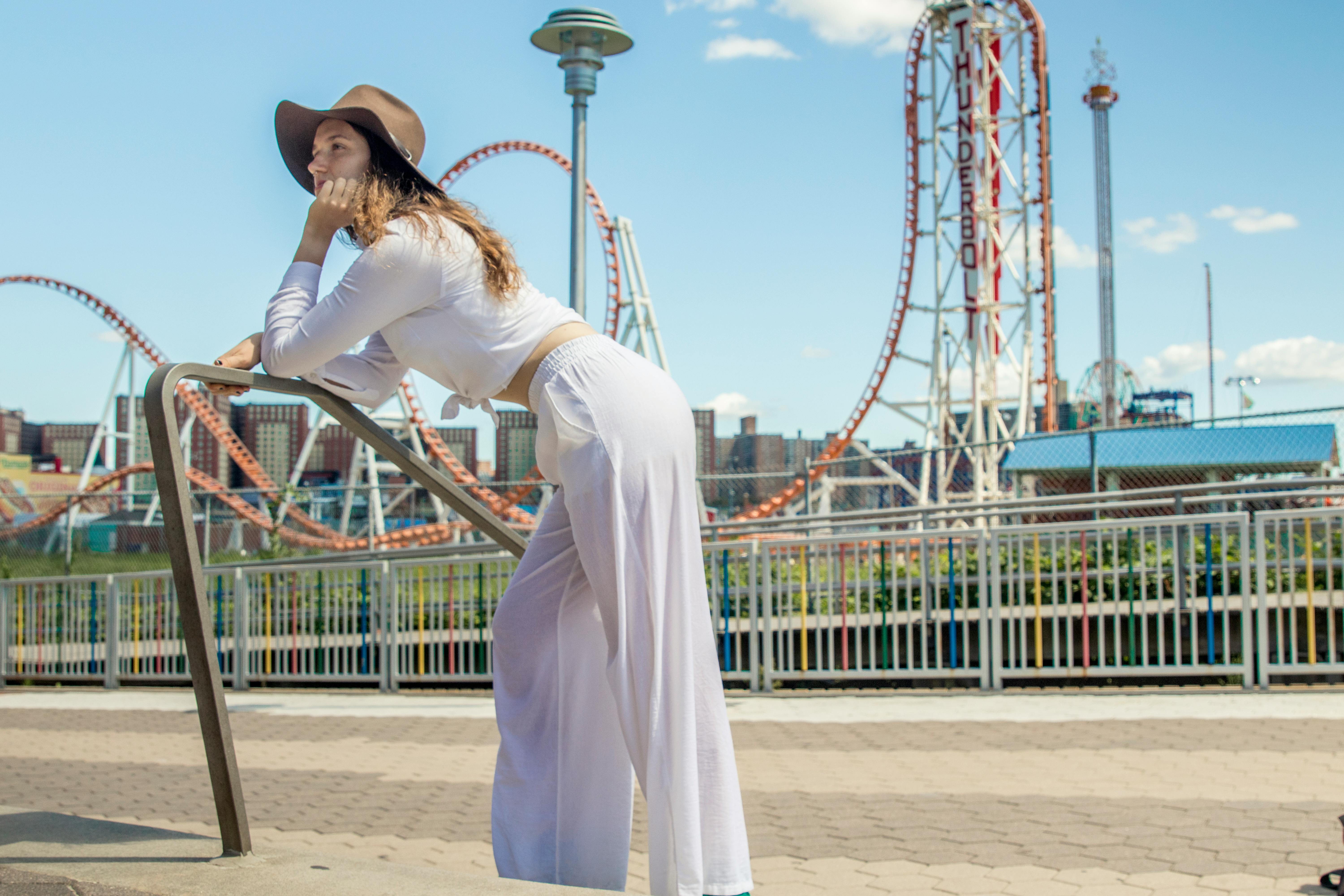 The middle part of Southern California has an ideal climate for growing grapes. At least twenty vineyards have been established in the Temecula Valley. On Wednesday, the sixth day of our vacation, we headed west on Interstate 10 to see what kind of wine we could find there.
My husband, Randy, was impressed to see all the wind turbines we came across along the way. Hundreds, if not thousands, of 3-arm contraptions that looked like airplane propellers perched near the tops of metal poles standing row after row in a variety of heights. The propellers faced in all directions to catch the breeze no matter which way the wind is blowing. Wind power is a very creative use of a natural resource.
Still looking for a good deal on luggage, we stopped when we stumbled across a huge outlet shopping complex. We stopped at a few of the "discount" stores looking for a bargain. The least expensive we found was over $200 for one piece of luggage. The air temperature was 112 degrees and it was too hot to walk on asphalt just for fun, so we jumped into the PT Cruiser and continued driving towards I-215.
We finally reached Rancho California Road. Ready to excite our taste buds, we enter the first winery we find. Upon opening the car doors, we notice an immediate change in temperature. It was a clear, sunny 80 degrees with a light breeze. Nice place, but no one recognized that we were there. After browsing and taking a few photos of the herb garden, we decided we must look too much like tourists to be taken seriously enough to receive the service.
We drove to Stuart Cellars, where we were cheerfully greeted and immediately invited for a drink. For $10, we could sample five wines and take home a souvenir glass of wine, so we headed over to the bar. We tried several different varieties, but nothing suited my tastes except for a $45 bottle of Port Zinfandel. I couldn't risk it breaking in my suitcase on the flight home, and if you can't get past the airport strip check with more than 3.5 ounces of water, there's no chance of getting by with a bottle of wine in your handbag
While we were there we found a display of olives. Some were stuffed with garlic; some were stuffed with bell pepper and others were mixed with an artichoke salad. These were not regular olives. They were olives on steroids! Some were as big as ping pong balls. We bought a jar of blue cheese stuffed olives. We'd have to eat them before we got back to Tennessee. No problem; We have another week here.
The next stop was the Mount Palomar winery. Lush mature vines graced the path up the sloping hillside to the top where the visitor center welcomed us. For only $6 we were able to try five wines but I think the guy liked us or else he had been banging on the cork before we got there because he lost count and kept pouring well past our fifth taste. He was a hoot, a comedian for sure; and the more wine he drank, the funnier he got. I must have tried at least a dozen wines before the room began to spin and my knees felt weak. My husband promptly paid for a bottle of wine that we would have to drink while in California. No problem; We have another week here.
All that wine made me want Italian food, so our comical employee told us where to find a nice little place to try. That is if we could find it. We drove several times around the mall parking lot where the restaurant was supposed to be. We even stopped and asked a few people, who were obviously clueless. They sent us on a wild goose hunt. We were about to give up when we spotted a small restaurant hidden between two larger stores. We made a line of bees for it. The food was delicious and there was a musical duo playing jazz. The place was almost empty, so Randy and I moved some tables and danced for half an hour before deciding to head back to Palm Springs. As we walked to the car, Randy glanced over his shoulder and saw the restaurant the wine guy had recommended. I swear it wasn't there when we went to the other place.
We take a different route home. Highway 74 took us to a small town called Hemet, where we saw a small strip mall with Sears and Penney's as anchor stores. Randy pulled into the parking lot. We searched the ten stores in the mall and found nothing worthwhile. Just as we were leaving Penney's, Randy glanced at the luggage department hidden in a corner that we didn't see when we entered. Sure enough, they had a quality five-piece set valued at almost $200 that was on sale for $79. The set had three carry cases with all sorts of compartments; a 30-inch, a 29-inch, and a 27-inch size would all work just fine. When we got to the register, the lady asked for $65 including tax. They were on sale and everything in the baggage department was 25% off the lowest ticket price. Fantastic!
The scenic terrain provided a wonderful end to our day. The sun was setting over Hemet as we reached the mountainous part of our drive. When we had almost returned to the desert, we stopped at a stopping point overlooking the conglomerate of cities. In the black night sky, millions of stars decorated the sky with a silver mist.
Maybe there is a paradise in the desert during the summer.